New Eich Games now has a redesigned site! In the news section of this website, I plan on posting status updates of what I have been working on.
Here is a quick list of things I have been working on:
Redesigned website
Published Getaway Shootout to the Google Play store
Updating Getaway Shootout with new maps and players
Inactivity
It is clear that it has been a while since my last published game. I am sorry for the long break in content. During that time, I have started working on two new video games, but ended up scrapping them both times due to a variety of reasons. I still want to keep creating content, so I decided to switch gears for now and focus on updating my previous games.

Getaway Shootout
By far the most requested game to be updated is Getaway Shootout. There seems to be a lot of passionate players for Getaway Shootout (there is even a subreddit created), so I decided to focus on updating Getaway Shootout. Here is my current list for updating Getaway Shootout:
Completed Publish Getaway Shootout to Google Play store
Fix Getaway Shootout bugs
Two new maps
More characters
Time trial mode
Play store
Yes Getaway Shootout is finally on the Google Play store. The process took a little bit of time because I merged my mobile and web project versions into one Unity project. This will make creating updates for Getaway Shootout easier because now I will only have to make changes in one Unity project.

Bug fixes
I found a Getaway Shootout Handbook shared on the Getaway Shootout subreddit by real_dima14. The handbook is really impressive list of facts and glitches. My plan is to go through the glitches and try fixing the glitches that negatively impact the game.
A gameplay fix not on the list I have made deals with picking up power ups/weapons. The fix makes it so you can pick up a power up after using a power up without having to leave and comeback to the power up. Here is a before and after of the fix: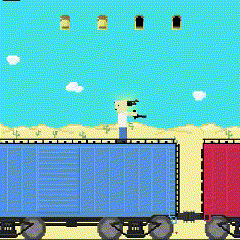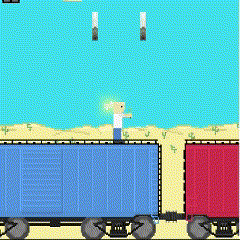 This gameplay fix is currently only live in the android version of the game.
New Maps and Characters
Currently, I am working on adding two new maps and adding more characters to the game. Possibly when the maps get closer to completion I can setup a beta testing for the new maps.
Time trial mode
I received an email suggestion for time trial option in Getaway Shootout and I think it is a great idea. The time trial feature would be an option in the main menu and would allow you to pick the map or group of maps to time yourself in. The feature shouldn't be too hard to implement.
Version 1.1
All the Getaway Shootout features listed are planned to be in the next Getaway Shootout update for all platforms. I don't have an estimated release date for the update, but I will try to keep sharing progress.